Raymond Mill
Brief introduction
Raymond mill is widely used in the field of metallurgy, building materials, stone industry and mining to process powder. This mill is used to grind non-flammable and non-explosive material which has Moh's hardness below 9 and humidity less than 6%, such as gypsum, talc, calcite, limestone, marble, feldspar, barite, dolomite, granite, kaolin, bentonite, bauxite, iron ore, etc. the final product with size from 30 to 425 mesh can meet different customers' various requests.
Features
Small area of whole grinding plant;
Higher powder passing ratio;
Durable of whole plant;
Automatic electric control system for the whole plant;
Easy maintenance;
Working Principle
The raw material enters grinding chamber, shoveled up by the shovels and ground between the rollers and ring. After this, the ground material is carried by the air from the blower into the separator for screening, and the qualified fine powder becomes final product and comes into the cyclone powder collector, the other unqualified powder falls down to be re-ground. The circular air returns back to the blower, so the above process will be repeated, and the remaining air enters the bag filter in order to protect the circumstance.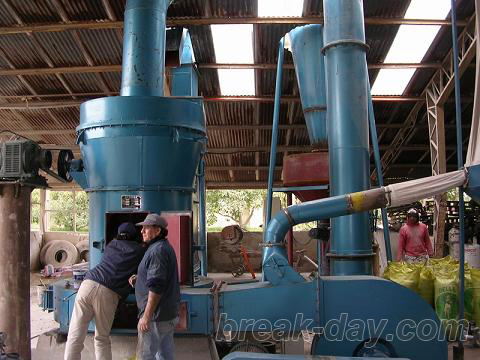 Technical Data
Model

3R2115

3R2615

3R2715

3R3016

4R3216

Roller

Number

3

3

3

3

4

Diameter (mm)

210

260

270

300

320

Height (mm)

150

150

150

160

160

Ring

Inner diameter (mm)

630

780

830

880

970

Height (mm)

150

150

150

160

160

Maximum feed size (mm)

15

15-20

15-20

15-20

20-25

Discharging size (mm)

0.044-0.165

0.044-0.165

0.044-0.165

0.044-0.165

0.044-0.165

Power of main frame (Kw)

15

18.5

22

30

37

Size of final product (mm)

0.165

capacity (t/h)

1.2-1.8

1.8-2.5

2.3-2.8

2.6-3.2

3.2-4.5

0.075

0.6-1.2

1.2-1.8

1.8-2.3

1.9-2.6

2.4-3.1

0.044

0.6-1.0

0.8-1.2

0.9-1.7

1-1.9

1.8-2.5