Impact Crusher
Brief introduction
Impact crusher can crush many kinds of materials with max feed size less than 500mm and crushing strength less than 360 MPa. The crushed materials with cubic shapes are ideal for highway construction, water conservancy project, architecture, etc. Moreover, our impact crushers is optimized and widely applied in the first and secondary crushing.
Features
Speical design for impact plate;
Large capacity and low operating cost;
Cubic final product;
Adjustable discharge opening;
High chrome for hammer or blow bar, wearable material for line board;
Hydraulic or manual opening;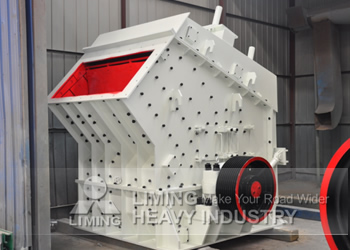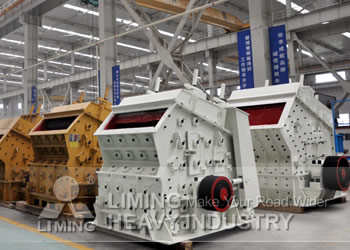 Operating principle
Impact crusher crushes materials by impact force. When materials enter the blow bar area, they are crushed due to the high-speed impact of blow bar and are thrown to the impact plates on the rotor for secondary crush. Then the materials will be thrown back to the blow bar again for the third crush. This process repeats until the materials are crushed to the required size and discharged from the lower part of the machine. The size and shape of the finished materials can be changed by adjusting the gap between the impact rack and rotor support. The machine employs self-weigh security device in its back frame. When other objects enter the impact cavity, they will be forced out of the machine by the impact rack in the front and back of the machine.
Technical Data

Model

Size of Rotor (DxW) (mm)

Feed Opening Size (mm)

Max. Feed Size (mm)

Capacity (t/h)

Power  (Kw)

Overall Dimensions
(LxWxH)
(mm)

Weight
(t)

PF1007

Φ1000×700

400×730

300

15-30

37

2400×1560
×2660

6

PF1010

Φ1000×1050

400×1080

350

50-80

75

2440×2250
×2630

12.5

PF1210

Φ1250×1050

400×1080

350

70-130

110

2700×2340
×2870

16.5

PF1214

Φ1250×1400

400×1430

350

90-180

132

2700×2440
×2900

19

PF1315

Φ1320×1500

860×1520

500

120-250

200

2860×2800
×3050

24

PF1320

Φ1320x2000

860x2030

500

160-350

260

3000x3150
x3300

27