VSI Sand Making Machine
VSI Sand Making Machine with international advanced technology level. VSI Sand Making Machine is widely used for artificial sand, in metal and non-metal ores, cement, refractory material, bauxite, silicon carbide, glass material, building material.
Usage:
Sand making machine is widely used in all kinds of mineral, cement, corhart, bauxite chmotte, carborundum grain, glass raw material, construction sand, stone stock and all kinds of metallurgy slag, especially carborundum, sintered bauxite, magnesite, very hard and anticorrosion materials.
Advantage:
Compared with other kind sand making machine, the new one has following advantage:
1. Advanced double-pump oil lubrication system guarante shaft bearing lower temperature increase, longer life time, more reliable operation. 2. Main shaft is equipped with imported precision rolling bearing. It makes main shaft work stable, lengthen maintenance cycle, increase productivity.
3. Hydraulic lifting mechanism of upper cover can move away the cover easily, which saves man power during maintenance.
4. Over-vibration device is equipped. There will be alarm when vibration surpasses a stipulated figure. It will stop the machine, in order to protect it.
5. Special dust-proof design for main shaft bearing fully avoid dust entering bearing lubrication part, which make sure the machine work normally.
6. Special feed opening structure make it possible that center feeding and ring feeding comes together, in order to meet requriement of different stones. In addition, this equipment can not only crush stone, but also iron.
7. Shape of material-throughing device is better designed, which improve the utilization ratio.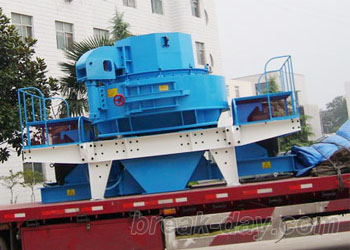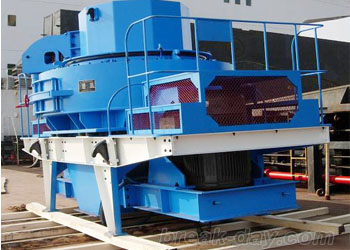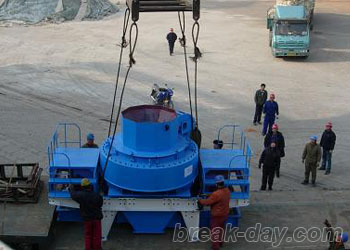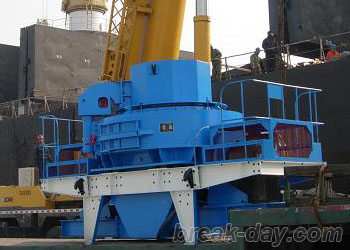 Service:
And we have rich experienced engineers team to guarantee the whole line install, trainning, after service, 24 hours problem resolve system.
For more details please fee free contact us and our technical will design the whole line according your requirement.
Specification:
Model
VSI7611
VSI8518
VSI9526
VSI1140
Capacity (t/h)
Center and Ring feeding
120-180
200-260
300-380
450-520
Center feeding
60-90
100-130
150-190
225-260
Max Feed Size (mm)
Soft material
<35
<40
<45
<50
Hard material
<30
<35
<40
<45
Rotation speed (r/min)
1700-1890
1520-1690
1360-1510
1180-1310
Power for double motor (kW)
110-150
180-220
264-320
400-440
Overall Dimension L×W×H (mm)
3700×2150×2100
4140×2280×2425
4560×2447×2778
5000×2700×3300
Weight (t)
7.5
10.5
14
16
Power Source
380v 50Hz
Vibrating Sensor
Inspect scope: 0.1-20mm/s adjusted continuously
Lubrication hydraulic pressure station
Power for double oil pump
2×0.31kW
Safety
To make sure the supply of the oil with double oil pump; stop working without oil or hydraulic pressure; temperature falls when the water cools; start the motor by heating it in winter.
Power for oil box heater
2 kW
Notice: Any change of Sand Making Machine technical data shall not be advised additionally.